I am getting a late start on blogging today because I debated on whether or not to even post something. I had this really great post that I was almost done typing, then had to run to the doctor for a last minute appointment. So since I am a little off today and not too focused on thoughtful words, I'm just gonna do one of my favorite Friday link ups!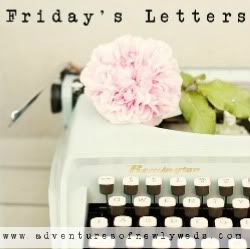 Dear Friday: I am so glad you are here! This week has been so tiring and I am just ready to enjoy the "day"time!
Dear Ear: Thank you for gracing me with an ear ache that has throbbed so hard you are making my jaw hurt. Not cool.
Dear Husband: Thank you for laying with me late last night and making sure I had a cool ice pack on my ear. Thanks for cuddling and making me feel better when I was not feeling good. I know you have been so busy studying, and you worry I am lonely, but I am okay. Thanks to Hobby Lobby, blogging, and Netflix this week has been hard, but do able. Just keep up all your good work!
Dear Doctor: Thanks for fitting me in this morning and making me feel better! If only I could express how thankful I am that you are my doctor. That random match with an Internal Medicine doctor worked out so well ! I feared getting some lousy Doc who was in and out in 5 minutes, but no, you take your time with me and even do demonstrations on how I am supposed to fix a pain I am having. I wish there were more Docs like you!
Dear 23 year old body stuck in an 83 body: I know I like to do old lady things like craft and make tea, but can you lay off the joint pain and other weird bodily functions you put me through?
Dear Tonight: I am going out with friends no matter what! Doc said I can even sip a few beverages tonight on my antibiotic, so you best bet I will be!
Dear Rayne: Why do you continually eat your bed? Oh well, your getting closer to that hard plastic and your done after that. I still love you, but you are very strange sometimes.


Have a good weekend everybody!